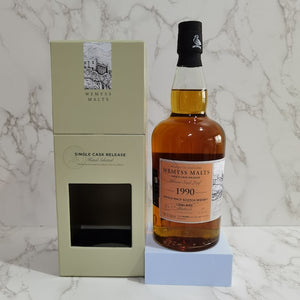 HNWS Bladnoch 1990 29 Years Old
Distillery: Bladnoch
Status: Operational
Location: Lowsland, Scotland
Vintage: 1990
Age: 29 Years Old
Whisky Type: Single Malt 
Cask Type: Barrel
ABV: 58.5%
Volume: 70cl
Packaging: Comes in a standard box
Tasting Notes:
Nose: Initial nose is full of olive oil and green fruits, with floral scents wafting in and out. Dried peaches, mangoes, yellow olives, honey, vanilla ice-cream, pears and tangerines candies then surface and mingle beautifully together to create a fruity, floral bouquet. 

Palate: Oily texture with slight saltiness. Dried peaches and mangoes blossom right after. There isn't a sharpness despite the high abv. The olive oil aroma comes at the back of the throat together with vanilla and cereals notes. There is a hint of waxiness at the back of the throat with a minty aftertaste.
Finish: Long finish with dried peaches, mangoes, vanilla, mint and a hint of Oolong tea. 
*Adding 2 drops of water opens up the whisky to yield more dried fruits. The dryness will also decrease. If you like waxy whisky, adding 2 drops of water also gives you a more waxy whisky to enjoy!