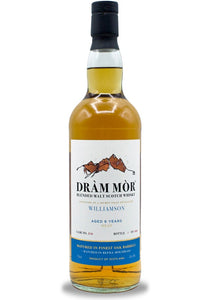 Dram Mor Williamson 2015 6 Years Old
$15980

$159.80

Save $28.20
---
---
Distillery: Williamson (Froggie) 
Status: Operational
Location: Islay, Scotland
Vintage: 2015
Age: 6 Years Old
Whisky Type: Blended Malt 
Cask No: 316
Cask Type: Refill Bourbon Hogshead
ABV: 56.4%
Volume: 70cl
Packaging: In a customised paper box
Tasting Notes from Spirits Castle:
Nose: Lovely lemon custard, vanilla cream and a wee hint of fruitiness blanketed by an ashy smoke that keeps going. 
Palate: Oily and creamy, filled with lemon custards, vanilla ice cream, sweet and full of gentle smoke. After a couple of minutes, the typical Williamson peat bog smoke comes rushing in, delightful for some, a horror for others. 
Finish: Ashy, smoky and sweet, with the typical Williamson peat bog smoke wafting in and out. The sweetness of lemon custards and vanilla ice cream linger, creating some sort of savoury smoke that stays long after the whisky is gone. 
Comments: Some of you may have tried a superb delicious personal bottle from us previously that was a 5 years old Williamson. This bottle exceeded the awesomeness of that 5 years old, and honestly, this is one good frog to drink!