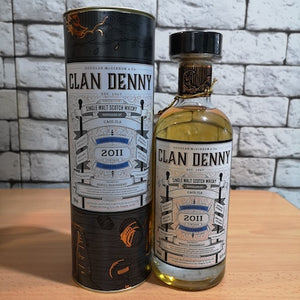 Caol Ila 2011 7 Years Old (Clan Denny)
Distillery: Caol Ila 
Status: Operational
Location: Islay, Scotland
Vintage: 2011
Age: 7 Years Old
Whisky Type: Single Malt
Cask Type: Refill Hogshead
ABV: 58.6% abv
Volume: 700ml
Packaging: Specially printed paper box 
More about the product:
Caol Ila is a popular Islay distillery owned by Diageo. Sitting right by the sea, the distillery is a beauty to behold. Caol Ila is consistently putting out an excellent core range of product, including their very affordable 12 Years Old. 
The bottle here is a single cask, 7 years old Caol Ila distilled in 2011. Matured in a refill hogshead, it is bottled by Clan Danny, an independent bottler of some renown.