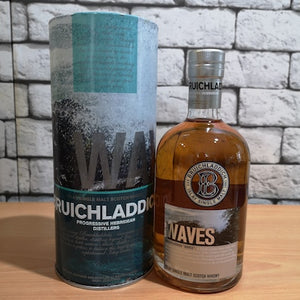 Bruichladdich Waves
Distillery: Bruichladdich
Status: Operational
Location: Islay, Scotland
Vintage: Unknown
Age: Non-Age Statement
Whisky Type: Single Malt
Cask Type: Unknown, likely bourbon cask
ABV: 46% abv
Volume: 700ml
Packaging: Round tin box


More about this product:
Bruichladdich Distillery is a well-loved Islay distillery near the town of Bowmore. Founded in 1881, it received a new lease of life in 2001 from 2 passionate whisky men and their friends. The distillery has never looked back since, and with Remy Cointreau behind their back now, Bruichladdich is putting out excellent stuff in the market. 
The Waves is one of those non-age statement bottles that are released by the distillery. It has a sister pair called Bruichladdich Rocks.